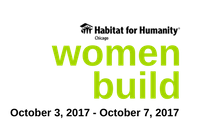 Teams and Walkers
Select A Team:
Earn Prizes as You Raise
Let the competition begin - who will be the top fundraiser? That's up to you! Earn your Women Build t-shirt and one additional prize as you climb your way to the top of the Women Build 2017 builders. In addition to individual incentives, the top fundraising team will earn a special prize the week of Women Build!
Win big during Women Build 2017!
$350
Earn a t-shirt and partake in some feel-good fun.
$500-$749
Laugh it up with theater or comedy show tickets for two:
• Victory Gardens Theatre
• Musical Comedy Theatre
• iO
• Neo-Futurists
• Laugh Factory
• Second City
• 20% Theatre
$750-$999
Take your construction skills home with a custom tool kit!
$1,000-$1,499
Relax and unwind or get back to the grind:
Tickets to:
• Chicago Architecture Foundation Walking Tours
Fitness Classes at:
• The Barre Code
Spa experiences at:
• Infinite Touch of Chicago
• Veola's Day Spa
• Changing Faces Salon
$1,500+
Treat yourself (and someone else)! A dinner and entertainment experience for two:
Dinner at:
• Seven Lions
• Revolution Brewing
• Simone's
• Al Fresco
• Capital Grille
• Fireside
• Hyatt Hotel
• The Duck Inn
• iFly
• Chicago Architecture Foundation Bus Tour
• Empirical Brewery Tour
• Lagunitas Brewery Tour
• Steppenwolf Theatre
• Blue Man Group
• Athenaeum Theatre
• Chicago Sidewalk Food Tour
?
• Chicago Symphony Orchestra
• A night's stay at a Hyatt Hotel
Top Team
Swap your nail apron for a kitchen apron at a private Chocolatier class for 12 with Cakewalk Chicago!