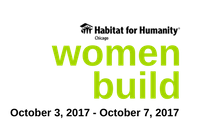 Teams and Walkers
Select a Team:
Top Teams
10/4 Wednesday - Team Colliers 1
Earn Prizes as You Raise
Let the competition begin - who will be the top fundraiser? That's up to you! Earn one additional prize as you climb your way to the top of the Women Build 2017 builders. In addition to individual incentives, the top fundraising team will earn a special prize the week of Women Build!
Win big during Women Build 2017!
$350
Earn a t-shirt and partake in some feel-good fun.
$500-$749
Laugh it up with theater or comedy show tickets for two.
$750-$999
Take your construction skills home with a Women Build tool kit.
$1,000-$1,499
Relax and unwind or get back to the grind: enjoy a spa day, hobby class, or gym pass for two.
$1,500+
Treat yourself (and someone else)! A dinner and entertainment experience for two.
Top Team
Swap your nail apron for a kitchen apron at a private cooking lesson for 12.