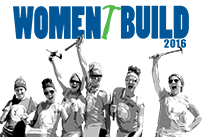 Teams and Walkers
Select a Team:
Meet the Goins Family

Catherine Goins, independent mother of three, never imagined that hundreds of women would come together to build her own family a home as she eagerly contributed to the build of the Spencer family house last year. With over 250 hours of sweat equity poured into the construction of her neighbors' homes, it's finally Catherine's time to provide her family with the home they deserve.
With boys ages sixteen, seven and three months old, Catherine's home will quickly fill. When she isn't out building, Catherine finds creative ways to spend time with her boys: "We play a lot of games together like with the Playstation, or checkers and other board games. My seven-year-old is really into cars; Super into cars. He knows the makes and models. And then my 15-year-old is really into music - he plays the piano right now."
Beyond her three sons, Catherine's larger family is also invested in her new digs. In just one day, Catherine and the family members she had recruited put in 100 hours of build time. Her incentive? "Bribe them with coffee in the morning. It works."
Complementary to Catherine's contagious laughter and bright, bold, charismatic personality, she has serious plans for the future. Giving her boys a room of their own is just one of the main things Catherine looks forward to when dreaming of her newly-built house. Family dinners and neighborhood get-togethers will allow her to really thrive as a homeowner. Catherine's brother, a frequent visitor, blames wolfing down her dinners on being a "growing boy" but Catherine isn't so sure: "You're 27. You're done growing. But, I would probably say I'm pretty good at lasagna. I make a good sweet potato pie." And as to where Catherine sees her family years down the road? "Settled in. Happy. Enjoying the neighborhood. Engaging in the neighborhood. And hopefully the other side of the block will be filled with houses."
As the neighborhood she grew up near continues to develop, Catherine works on her own personal development, enrolled in a set of "Homeowner University" classes. These classes prepare families like Catherine's to learn the ins and outs of home ownership, building a foundation for their future. Especially helpful, Catherine noted, was one of the introductory courses to help families budget and save. She said it introduced her to the program and gave her the education she needed to succeed in her neighborhood. Before taking these classes through Habitat, Catherine gained a strong base knowledge through courses at Urban League Chicago.
While gaining homeowner education is undeniably crucial, Catherine hopes to also gain a sense of community in this new chapter. Before even moving into West Pullman, she has begun to make friends with her new neighbors - one of which has a baby as well. Not only is she tied to them by the nature of her location, but she has also helped make their homes what they are today. She started helping build one of her neighbor's houses "last summer. It was just the shell. Seeing the completed process was pretty cool."
Through her ambitious nature and impressive work ethic, Catherine has helped at least four other families become homeowners and cannot wait to take the next step herself. With the help of hundreds of Chicago-based women, Catherine's dedication and persistence will pave the way for an outcome more rewarding and personal than ever before - a home that is completely her own.